BRABUS ROCKET 900: a luxurious 900 hp liftback! For 436 000 euros!
German tuning studio Brabus, which specializes in modifying Mercedes-Benz cars, has presented its new project – 900 hp Rocket 900 One Of Ten.
As it is clear from the name of the version, ten such cars will be built in total, and each will be based on the Mercedes-AMG GT 63 S 4Matic +, The cost of the first copy is 435,800 euros (approximately 39.5 million rubles at the current exchange rate), all cars will have individual trim details, despite the proprietary Rocket attachment, this car did not get the twelve-cylinder engine .
Here is the standard for the GT 63 S twin-turbo V8 4.0 with a capacity of 640 horsepower, which was increased from 4.0 to 4.5 liters by boring the block from 83 to 84 mm, and the power – from 639 to 900 hp. It works with a 9-speed "automatic", the drive is full with the ability to turn off the front axle, As a result, the acceleration from 0 to 100 km / h takes 2.8 seconds for the car (3.2 – for the factory version), from 0 to 200 km / h – 9.7 seconds. and up to 300 km / h – in 23.9 s.
The maximum speed is limited to 330 km / h. The torque was increased from 900 N • m to 1250 N • m. However, when installing the motor in the car, the Germans limited the torque at 1050 N • m in order not to overload the nine-speed Speedshift MCT gearbox, After the modifications, the car received a new aerodynamic body kit made of carbon fiber, this is a front splitter, a diffuser, overlays under the sills, as well as a rear wing. Brabus specialists modified the standard suspension of the Mercedes-AMG GT63 S by installing branded air bellows, which reduced the ground clearance by 25 mm. the car also received mixed-size Monoblock Z forged wheels with a diameter of 21 inches at the front and 22 inches at the rear. The outlet pipes are made of stainless steel.
The interior of the car is lined with leather and Alcantara with gray stitching, sports seats, branded floor mats, as well as red accents on the front console, center tunnel and door cards.
Do you think the price of an exclusive rocket from Brabus for 39 million 500 thousand rubles is reasonable? write your opinion in the comment section.
New Hyundai Tucson 2021 – Futuristic Design and Hybrid Installations!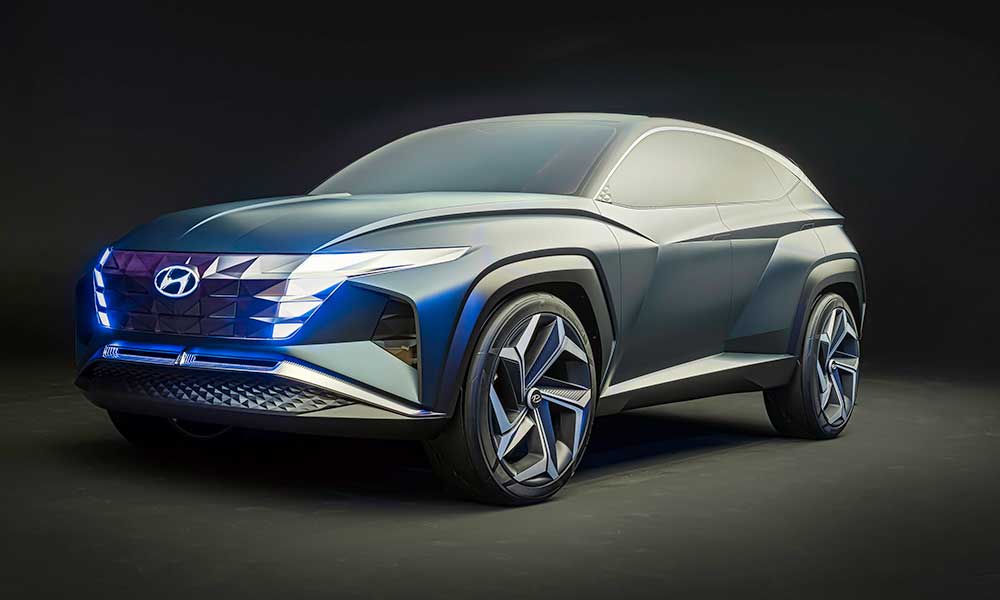 Hyundai presented 4th Tucson crossover generations, with a revolutionary design exterior and interior. The premiere of the novelty took place in online format due to considerations security.
Local sales market cars will start in September, to European dealers Tucson will get there at the start of 2021 year, the model is also announced for Russia.
The 4th generation Tucson changed a lot externally, despite the fact that the car resembles a concept car, this is a serial crossover.
Crossover design received features of the Vision concept car that was presented at the end of last year at auto show in Los Angeles.
Korean new corporate identity the brand is called Parametric Dynamics "Parametric dynamics", it is read in the sidewall relief made up of numerous broken lines, front doors unites at once several faces, and massive wheel arches are made in a rectangular shape, looks no less complicated front part with complex boomerang optics, which is visually combined with radiator grill and consists of trapezoidal elements, they are not visible when they are off, blocks main headlights are located below, which are disguised under fog lights, from behind the car stands out"Fanged" lanterns, united among themselves luminous strip.
The body can now have two-tone color with contrasting roof, optionally wheels diameters from 17 to 19 inches, Tuscon is built on a new platform with McPherson struts front and multi-link behind.
Steering gear – with electric power on the rail, the car will sold around the world with two wheelbase options, The difference in distance between two axles will be 75mm, but relatively per-reform crossover models have grown in size, In length, width and it reaches a height of 4500, 1865 and 1650 millimeters, respectively, that is, by 20 millimeters longer, 15 wider and 5 above the previous crossover, due to what has become more spacious: for example, passengers second row added 26 millimeters free space in the area knees, interior of the new Tuscon completed to match the exterior of revolutionary solutions in the interior – virtual diagonal dashboard 10.25 inches, which is missing visor and touchscreen multimedia system made as a single block (8 or 10.25 inches and touch three-zone control panel climate control (nano basic crossover simple radio tape recorder, with physical buttons and washers for "Climate"), there is a contour illumination for 64 colors and additional hidden air deflectors, the central tunnel is two-level, and instead of the traditional box lever set push-button panel, Trunk volume for European crossover with petrol motor – from 620 liters "under shutter "up to 1799 liters with folded back row, In addition, Tucson has acquired an unusual airbag, which unfolds between the driver and front passenger, the list of equipment includes seven airbags(considering the central one), front seats with function ventilation and rear heating sofa, depending on the market the model is equipped with an audio system Bose or Krell.
The new Tucson is equipped with adaptive cruise control systems self-braking with recognition pedestrians monitoring blind spots and retention in the strip, as well as camera sall-round view and car park, plus up to 27 m can be controlled some car functions from smartphone – open / close doors, start the engine and manage climate control.
The basic motors of the new Tucson steel petrol turbo four1.6 150 horsepower forces and diesel CRDi Smart stream such the same volume that develops 115 forces. Both units are combined with a six-speed manual transmission, In addition, for them is available 48-volt superstructure:"Soft" hybrids produce 150 or 180 forces (based on gasoline1.6) and 136 forces (diesel 1.6), For them, an innovative "Mechanics" iMT (pedal mechanically not related to clutch) and seven-speed pre-selective "robot", front-wheel drive or full with clutch at the back axis, for all-wheel drive cars among driving electronics modes added off-road Mud, sand and Snow installations.
Top engine for the market USA is a 190-horsepower gasoline unit with a volume of 2.5 liters.Prepared for South Korea two-liter motor with recoil186 forces, both work in tandem with an eight-band "Automatic", also in the motor range includes a 150-strong "atmospheric".
Later, in 2021, Tucson will acquire 265-strong hybrid modification with recharge function – it will become the most powerful in the line, and even before the end of this of the year will debut Tucson N Line with original decor outside and inside.
did you like the new a bold Tucson design? or do you like more conservative pre-reform, let us know in the comments section.
2021 BMW X7 Darkish Shadow Version: The X7 Will get a Sinister Makeover
BMW loves its particular editions, and the corporate has rolled out some dark-themed schemes as of late, together with the virtually unseeable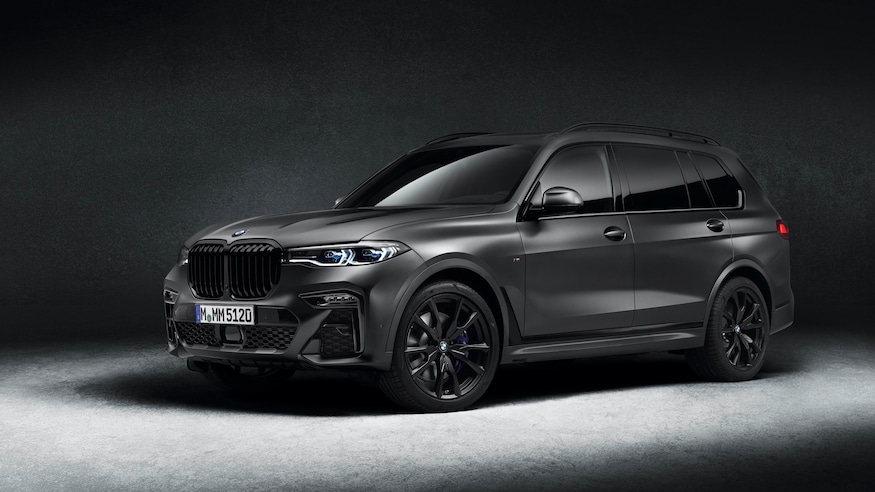 BMW loves its particular editions, and the corporate has rolled out some dark-themed schemes as of late, together with the virtually unseeable Vantablack X6 and the Eight Collection Golden Thunder version. But it surely appears the Munich-based automaker is not letting up, and it is simply taken the wraps off the BMW X7 Darkish Shadow Version.
Primarily, the Darkish Shadow Version is an eight-cylinder X7 M50i with numerous blacked-out bits to offer it a stealthier vibe. The paint, nonetheless, is not black. Wait, what? No, actually—this particular X7 is coated in matte Frozen Arctic Gray Metallic. Despite the fact that the colour is an choice in BMW's Particular person catalog, the corporate says that is its first SUV to put on the hue. In images, it at the very least seems very near black.
The mirror caps, window encompass, roof rails, and big grille are all (really) blacked out and assist set off the shadowy grey paint. The household hauler sits on 22-inch wheels painted Jett Black that assist full the sinister look.
Inside, the X7 will get particular two-tone, Night time Blue and Black seats and a Night time Blue Alcantara headliner, whereas the dashboard and elements of the doorways have extra splashes of Night time Blue to liven issues up a bit. The remainder of the inside is usually black, with the shiny piano-black plastic center-console trim bearing the phrases "Version Darkish Shadow."
Being an look package deal, the Darkish Shadow X7 brings no mechanical modifications. Which means the 4.4-liter twin-turbo V-Eight nonetheless makes a wholly gratifying 523 horsepower and 553 lb-ft of torque and the M Sport suspension stays unchanged. BMW says about 75 Darkish Shadow fashions will make their strategy to the U.S., and events can preorder one at this hyperlink together with inserting a $1,000 refundable deposit. The Darkish Shadow Version X7 itself will price $120,490 when these orders are fulfilled.
Brabham begins deliveries of BT62 supercar
Temporibus autem quibusdam et aut officiis debitis aut rerum necessitatibus saepe eveniet ut et voluptates repudiandae.
The lengthy street to getting the Brabham BT62 into buyer palms is lastly over, with the Australian race staff and nascent supercar producer lastly beginning deliveries of its first buyer automobiles.
Among the many first is a BT62 Competitors mannequin, primarily a stripped-out, race-ready model of the gorgeous supercar. The BT62 Competitors is the one closest to an precise race automobile, and it is the model Brabham will use as the idea of any race automobile entered within the World Endurance Championship's new Hypercar class, ought to Brabham find yourself coming into the sequence.
The shopper taking supply of this inexperienced and gold BT62 Competitors is British race staff Horsepower Racing, which plans to enter the automobile later this yr within the Britcar Endurance Championship.
Different variations of the BT62 embrace the track-focused BT62 Final Observe Automotive and street-legal BT62 Street Compliant Automotive. Brabham is constructing these variations, too, and can begin delivering them within the coming months to clients in Europe and Asia Pacific, assuming the continuing Covid-19 coronavirus pandemic would not trigger any hiccups.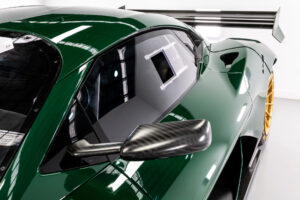 Brabham will construct simply 70 examples of the BT62 at its plant in Adelaide, Australia, every priced from $1.three million. The corporate will then introduce new fashions, together with doubtlessly a extra attainable automobile.
The BT62 weighs simply 2,142 kilos (in BT62 Final Observe Automotive specification) but generates 700 horsepower and 492 pound-feet of torque from a naturally aspirated 5.4-liter V-8. The BT62 additionally employs componentry from a few of motorsport's most interesting, together with pushrod-actuated adjustable Ohlins dampers with coilover springs, Brembo carbon-ceramic brakes, Michelin racing slicks, and an adjustable traction management system. An aggressive aerodynamics package deal additionally delivers 2,645 kilos of downforce, which ought to assist make the automobile an actual beast on the observe.